According to EQD this would be legit. It's on the MLP facebook and all, but to me those toys seem a bit too….well-made.
It is possible they did but look at this Zecora. Not much work put into because sales are not highly likely.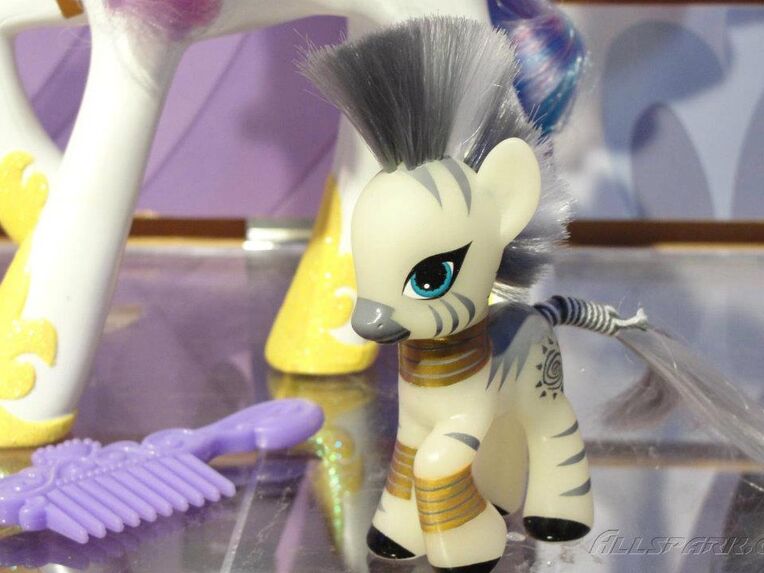 Zecora IS a recurring character though, so a toy is not absurd at all…then why did they put so much work into a Gilda toy? She appeared only once and did not leave a good impression with the "flat-watching-fans", which is most of their fans. She is not Mulp's avatar for no reason. Some rabid bronies have insane hatred for her for screaming at their waifu Fluttershy. I really want her but…
*Apparently they made a toy out of unnamed Wonderbolt #3, instead of Soarin' or Spitfire. Also a weird choice.
*Granny Smith is modeled after this scene:
I found it questionable that she would be modelled after a specific scene from the show rather than being given her usual design where she stand on all four hoofs.
*Shining Armor body is..too shiny. And by looking at Twilight's and Candance's hair I am reminded of that glassy material fans use to make custom ponies…to look more like the show designs.
I have a really hard time believing this is legit, but if it is, I keep fearing that it will be America only. Since the beginning of MLP Europe has been the one their toylines kept been buying. I hope they won't pull a "bronies first" because ""bronies" will not stick after FiM is over. Then again, this might not even be a "brony" pack, but just a pack for the whole family.
If that is the case I can hardly explain just how much that would mean to me.